Apple's Mountain Lion: Top 10 features
Apple surprised the tech world Thursday when it announced its new operating system, Mountain Lion. The system incorporates several of iOS's most notable features. Here's a quick rundown of the top Mountain Lion features for the Mac, many aimed at users who have more than one Apple product: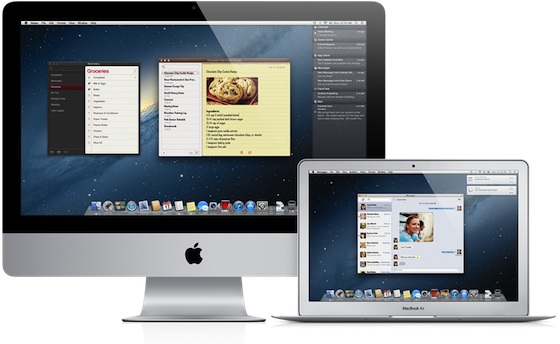 Notifications: After adding a notifications center to the latest version of iOS, Apple has decided to put notifications on its Macs, as well, letting users have easy access to e-mail and app alerts. Apple will also use the notifications center for system updates and messages.
Notes: Mac users will be able to create notes that sync across all their Apple devices, to keep track of their to-do lists. On the Mac, users will be able to add photos to their notes.
Reminders: Also pulled from the latest version of iOS, Reminders will pop up through the notification system, acting in the same way that iCal alerts do now. Users can set Reminders to appear at a certain time of day and mark items as complete once they've taken care of business.
Messages: Messages will replace iChat on the new operating system, though it will still support AIM, Google Talk, Jabber and Yahoo Messenger. Users will be able to send videos and photos for free through the service to other Macs or iOS devices. Lion users who can't wait for this summer can already download a beta version of Messages from Apple's Web site.
Game Center: The central hub for games on iOS is also coming to the Mac, and multiplayer games will then work across all Apple devices. The Game Center also has built-in voice chat.
iCloud: There's a whole lot of iCloud going on in Mountain Lion. The new OSX will sync documents, contacts, mail, calendar, Messages and FaceTime. It adds the option to "Find My Mac" in the same way users can register their iPhones for tracking in case they're lost or stolen.
Twitter: Twitter is already baked into Lion, but there's even more Twitter integration in Mountain Lion, Apple said in a release. Users will be able to tweet directly from Safari, Quick Look, Photo Booth, Preview and some third-party apps.
Share Sheets: Sharing should be easier than ever in Mountain Lion, thanks to share sheets, which let users share links, photos and other content through e-mail and Twitter. Users will be able to share things through apps from Apple and third parties.
AirPlay : Trying to encourage even more device integration, Apple is adding AirPlay, meaning that it will be possible to put whatever is on your Mac on your television — if you use the Apple TV set-top box. This is aimed at presentations and video sharing.
Gatekeeper: Meant as a security feature, Gatekeeper gives users three options for installing software on their Macs. Users can put software from any source on their computer — presumably as they do now — or they can limit the software sources to just the Mac App Store or Apple-approved developers.
But no Siri: Mountain Lion may have brought the iPad feel to the Mac, but it neglected to bring one particularly popular addition from the iPhone — there's still no Siri. Why's that?
Wired's Christina Bonnington has a couple of hunches. For one, Siri's probably not nearly as necessary on your laptop or desktop, because, well, you have a full keyboard. What makes Siri most useful is her ability to call up quick Web searches, send messages, etc., for you when you're on the go and can't be bothered to fiddle around with your iPhone's tiny keyboard. Bonnington also noted that the Mac microphone is not as well-suited for Siri. The iPhone has two microphones that are meant to be held near your face, while Macs have one omnidirectional microphone.
She also notes that Siri needs a constant data connection to work, and since current Mac laptops and desktops don't have 4G (or 3G, for that matter) connections, it would be hard to keep up the connection with Apple's servers.
From: http://www.washingtonpost.com/business/technology/apples-mountain-lion-top-10-features/2012/02/17/gIQAfoaCRR_story.html
/wp-content/uploads/2013/04/logo-270.png
0
0
CPRepair
/wp-content/uploads/2013/04/logo-270.png
CPRepair
2012-02-21 14:40:20
2013-04-19 17:17:56
Apple's Mountain Lion: Top 10 features